BeatBullying / The BB Group
The BB Group of charities evolved from the award-winning anti-bullying charity BeatBullying. Each charity in the group uses a model of socially mediated support to deliver services across different social areas.
In 2011 I joined a small team tasked with replacing BeatBullying's CyberMentors peer-mentoring website, and building a technology platform capable of supporting BB's plans for the next few years. Over the next two and a half years we launched several new websites and developed the underlying platform to provide a range of tailored user and back-end features.
In 2014 I returned for a few months to help with ongoing development of the platform, which was by now supporting websites for other organisations as well as the BB Group, and multi-language versions of the BeatBullying site.
---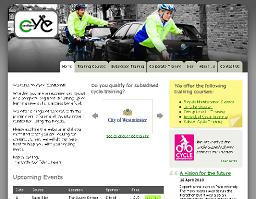 Cycle Confident offer a range of training courses in cycling and cycle maintenance.
They needed a site that was easy to keep up to date with the latest courses and information, and that would let them take bookings and enquiries online.
Working with a project manager and the design team who took care of the front-end design and implementation, I built the back-end database and logic to handle bookings and training sessions. Behind the scenes, but fully integrated with the public site, is a powerful management interface for handling enquiries, bookings, reminders, allocation of intructors, feedback and reporting.
Later, as a follow-up project I extended the platform to allow Cycle Confident to offer other training organisations their own websites with the same booking and management features.
---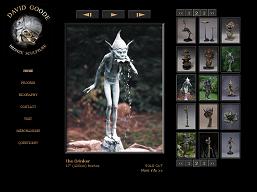 David Goode Bronze Sculpture
David Goode creates bronze sculptures inspired by myth and folklore.
With the growth of the business over the years his original static website was no longer practical. Making even simple changes could be time-consuming and likely to introduce inconsistencies.
Retaining the original look and feel I rebuilt the site with a database at its heart and an easy to use admin interface. Adding a new sculpture or updating stock levels is now quick and easy, and all contacts and enquiries from potential customers are automatically forwarded by email and recorded in the database.
---
Earlier work
Heartfelt Software has only been around for a few years. Before starting Heartfelt I worked for a number of different employers on a diverse set of projects including:
Many database-driven websites, all different but incorporating common elements such as registration, e-commerce, content management, email notifications, etc.
A survey system for a global non-profit foundation, including the online surveys themselves, an administration website for creating and managing surveys, and presentation tools for interpreting and graphing the results
Several SMS (text-message) -based systems, including a treasure hunt application, a vehicle identification service, integrating real-time audience participation into a dance performance and a listings service used during the Edinburgh Fringe.